On the occasion of the strong rise in the price of Bitcoin and the increasing popularity of cryptocurrencies, Bitcoin is increasingly being adopted as a means of payment for real estate. If you had only invested $1000 in Bitcoin 5 years ago, you could afford a nice property now. And that's exactly what crypto millionaires are doing, they are increasingly investing in real estate. But what's Bitcoin and how does it even work and will this hype last?
The hype around Bitcoin has not stopped at real estate. In the meantime, apartments and houses can be bought with cryptocurrencies in many places. The blockchain can massively simplify processes and make them more secure. More and more real estate agents are accepting cryptocurrencies like Bitcoin as a means of payment. In Dubai or even New York City, you can permanently find properties that can be paid for with Bitcoin. As Bitcoin and other cryptocurrencies become more and more popular, we will see more and more real estate agents accepting these currencies as payments in the future. We want to bring you a little bit closer to cryptocurrency in the following article.
Bitcoin and how it works
Bitcoin (BTC) is the world's leading cryptocurrency based on a decentralized ledger system. The maximum amount of Bitcoin available is limited to 21 million BTC. The network on which Bitcoin is based is also known as the Bitcoin Blockchain. In simple terms, the blockchain is a distributed database whose content is replicated and distributed via a worldwide network of computers known as nodes. This was only a short introduction to Bitcoin, if you want to go into more detail, please read this article.
In order to buy Bitcoin or even other cryptocurrencies for fiat money, you need to register with an appropriate crypto exchange, such as coinbase. You can store your currencies in a digital wallet or cold wallet. Once you install a wallet on your computer or smartphone, it will generate a bitcoin address. You can send or receive money using this digital address. All transactions are managed in the blockchain.
The Bitcoin price is a real roller coaster ride. Due to its strong rise in recent years, it has become increasingly popular. The Bitcoin price forecasts for the future vary greatly. Depending on the model, forecasts of $100,000 and more are predicted.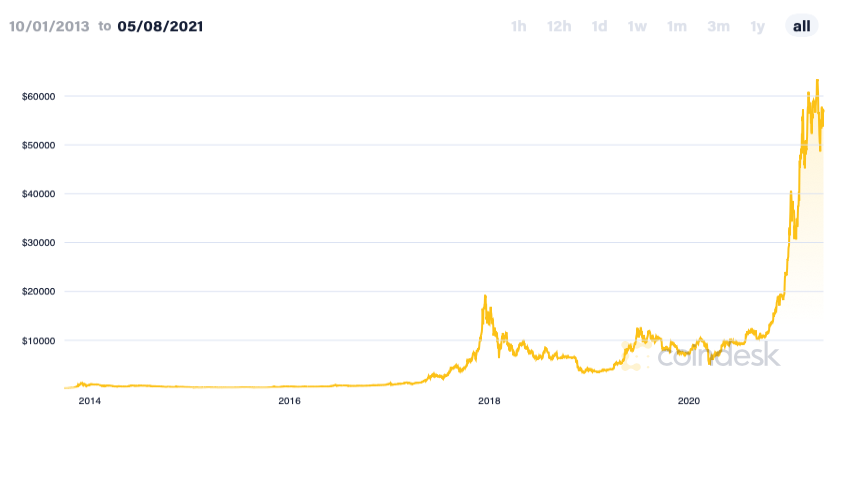 Bitcoin brings more transparency and protection from fraud. This is because the blockchain generates private, certified, digital identifiers and thus protects against fraud. Compared to the traditional bank letter, this system thus offers a more up-to-date and reliable proof of capital. The lengthy and often expensive interaction with banks and lawyers is spared with the blockchain. Real estate could be equipped with an individual digital identifier that provides full information about the chain of ownership.
However, investing large amounts of Bitcoin still comes with some risk. For example, hackers could swap the address of your transaction or your digital wallet could be hacked. In addition, many people do not realize that buying a property with Bitcoin also incurs taxes. One of the biggest risks is the price fluctuations of Bitcoin, so Bitcoin can quickly lose 30% within a few days.
Would you use bitcoin or other cryptocurrencies to buy real estate?
Time and time again we hear that someone has had their cryptos stolen from their digital wallet. That is why we recommend a cold wallet. This is the solution Ledger offers. TheLedger Nano S is a secure bitcoin hardware wallet. It connects to any computer via USB and has an integrated OLED display for cross-checking and confirming a transaction with the simple push of a button. Because not your wallet not your coins! With the Ledger, you have control over your money.